This is an archive page with data from the Option 24/7 2016 campaign.
For Bus Back Better (2021) we are updating information at http://option247.uk

This is our 2016 FAQ. 2021 FAQ to follow.

Frequently asked questions ... and our answers
We have been asked a LOT of questions and will be indexing them soon! - list [here]. ... also recent extra questions here

• What is option 24/7?

Wiltshire Council is currently consulting on the future of subsidised bus services in the county, under the title "Review of Public Transport". "This review is being undertaken to help identify savings from passenger transport budgets" they say in the pre-amble, and they ask the public to comment on whether they support:
Option 1 - Withdraw funding for all supported evening services [service list]
Option 2 - Withdraw funding for all supported Sunday and Bank Holiday services [service list]
Option 3 - Reduce the hourly services on Mon-Fri to two hourly on the strategic bus network [service list]
Option 4 - Reduce rural services to 2-3 buses a day on regular routes, withdraw infrequent services [service list]
Option 5 - Reduce town services to 2-3 buses a day. School pupils services in some towns retained [service list]
Option 6 - Withdraw all funding from all council subsidised services [service list]

We believe that the review is too limited - it looks only at the existing subsidised services each in isolations and not at the bus (or indeed) public transport network as a whole. And yet on some public transport services in Wiltshire, up to 80% of passengers interchange at one or both ends to another piece of wheeled transport. A network-wide approach is needed, where people's total journey requirements are taken into account - not only will that help the people who are making the journeys, but it will also help the local economy, grow service utilisation and help reduce (or even remove) the need for council subsidy. We are calling the network-wide approach, and the practical suggestion and mechanisms to implement it, Option 24/7

Such a network-wide approach has widespread support, and a proven track record in growing bus use in London - just take a look at this Department for Transport graph comparing London growth (where a scheme such as we are proposing is already in use) to "growth" or lack of it in the rest of England, and note that just 2 extra fare paying passengers somewhere along the route of a subsidised Wiltshire bus would provide the 60% savings sought, and three passengers would remove the need for subsidy from most routes completely.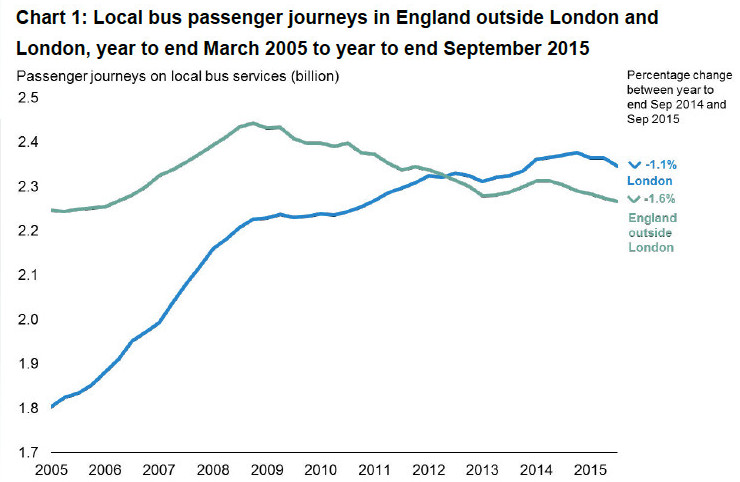 Option 24/7 service specification takes as a starting point "Where are people travelling from and to - total journey - when, and with what flexibility of timing" and it goes on to ask "how can that best be provided as a total transport solution - providing an efficient system that meets existing customer needs and encourages additional customers".

Mechanisms such as those used in London have been hard to apply for legal framework reasons in the rest of England, but consultation work last autumn and a new buses bill in February are aware of and address the issues. So Wiltshire Council's options 1 through 6 - which have been in preparation and pre-consultation since spring of last year (2015) were limited (to, it has to be said, frustration all around) to a "cut, cut, cut" policy - a decaying spiral where the choice being offered in the consultation is - in essence - about how the ongoing decay is to be managed.

If you already know enough about the survey to complete the council's consultation, it may be found at: http://www.wiltshire.gov.uk/subsidised-bus-services-consultation.htm

We recommend that you complete questions as follows:
Question 10, 12, 14, 16, 18 and 20 - select NO (to reject options 1 through 6)
Question 25 - please WRITE IN "Option 24/7 preferred - www.option247.uk" (to support option 24/7)

• How does the Option 24/7 FAQ stack up alongside Wiltshire Council's FAQ?

There's a lot of common ground - an awful lot of common ground!

We take a different view on their point no. 19. In answer to "Will concessionary passes be affected?" they say "No". But with up to 98 service groups being potentially chopped, we believe that concessionary pass holders - the main users of these services - will be affected, and that many of the necessary journeys made by pass holders on the withdrawn services at no charge to the passholder will now have to be made by taxi at the passholder's expense.

In point 23, talking about the updates from last Autumn, the Council FAQ states "While the outputs from the above processes may be significant in the medium-term, they are unlikely to be relevant in the short-term when the Council needs to make its financial savings.", and in point 9 they state when talking about the pre-consultation last July and August: "There were no new 'big ideas' suggested that would make significant financial savings within the necessary timeframe." That pre-consultation was informed, by our team, of option 24/7 (though not under that name) and technical data was supplied. So, rather sadly, it seems that the council decided against even offering Option 24/7 because of their concerns as to how long it might take, opting instead to only offer you options which they themselves admit to looking at the short term, in an aspect of looking forward and planning for changes that will affect us for many years to come.

We have been happily surprised at how quickly the buses bill and parliamentary support for it from local MPs came along last Autumn, and believe that it is realistic to implement it during the year from April 2017, and to look for budget dispensations and central funding such as Total Transport should that be necessary to "seed" the new system. We did it with the LSTF that brought Wiltshire millions of pounds to seed improvements that are now sustainable over the past 3 years, and I'm pretty sure that we could do it again.

• Will the bus I use remain unchanged?

Not necessarily, but there's a much better chance of it being retained - or you having an alternative that works for you (maybe even better)- under option 247 than under the other options. And option 24/7 also provides for better stability in the future too, as it breaks the downward spiral of potential further cuts a year later until few if any buses are left.

• Will any services be lost under option 24/7?

In setting up services for the future network, the old services of the past will need to be reviewed and some changed and perhaps lost. We anticipate the negative part of the changes to be relatively small, but clearly a bus that routinely carried just 0 or 1 passengers on most days in the past until August 23rd last year (for example) couldn't go on running as it had been.

There are "flows" on which run where multiple buses run each hour - perhaps with slightly varied routes along the way - and it's not uncommon to see multiple buses very close together with mostly empty seats, but then have a long gap in service. Some of these duplicated services may well be rescheduled or lost to make better use of the resources - encourage more passengers, and reduce the need for council subsidy.

• Why should I worry - "I'm all right - my service is safe because ..."
- It's supported by a developer's agreement
- It's commercial
- There's a special case to get people to hospital
- It was just recently improved
- The subsidy is at the lower end of the range

Sorry - your service is NOT safe. Developer's agreements run out and funding may not be ringfenced anyway. Commercial services can be withdrawn at 6 weeks notice if they are no longer profitable (or in the business plan) of the operator. Everyone's a special case. Although improvements should have 3 years to be properly evaluated, in Wiltshire services have been changed, made significant impacts, yet been withdrawn based on just 10 months of data. The subsidy amount is one factor - but not the only one. I can tell you about a service pulled for want of 57p income per passenger!

• Why are you calling it Option 24/7?

Because we are suggesting an option that looks at your total transport requirement - 24 hours a day, 7 days a week.

In practise, I would be very surprised if many buses (if any) were to run in the early hours of the morning - but that is all part of the equation. Certainly, Option 24/7 includes looking at services that get people to and from work, out for leisure in the evening, and on Sundays and Bank Holidays too. Sundays have become more and more a part of the working week, and on Boxing Day 2015, First Bus in Bath ran their first Boxing Day services for many years; they have shared some data about the success of that with me, and also on the growing passenger numbers on their Sunday buses.

• Can you put the amounts of money the council is looking to save into context?

- If there were between one and two extra fare paying passengers on each bus somewhere in each journey, the required saving would be made.

- The average subsidy per passenger journey is around £1.50 - that average varies from around a pound for some groupings to around 2 pounds for other groupings. For some individual services, the subsidy is as high as £10.00 per journey.

• How does bus franchising make a difference?

- It moves competition between bus companies on commercial routes to a bidding competition for operating the route every "n" years from being a war on the ground where two or more companies are 'racing' each other to the stop and then there are huge gaps.

- It removes the crevasse between commercial and subsidised

- It provides a stability of services - instead of changes being sprung out of the blue at six weeks notice (which can result in a panic at the council where a commercial service is being withdrawn)

• How do bus journeys compare to train journeys?

There are more journeys made by bus than by train in Wiltshire, but a higher mileage is covered in train journeys than on bus journeys. The average bus journey is 6 miles, and the average train journey is 20 miles.

• What about bus passes?

Background: English National Concessionary Bus Travel Scheme allows holders of passes to travel on any local public service bus between 09:30 and 23:00 (Monday to Friday) and anytime on Saturday and Sunday at no charge to the person travelling. Bus companies are paid by Wiltshire Council at a rate that's around 40% to 50% of the cost of a regular adult ticket. Outside these hours, bus pass holders may still use the buses, but they are required to pay their own fare. Some operators have taken the commercial decision to allow bus pass holders outside the "free" hours to travel at child / student prices.

This scheme (and council funding of it) is mandated by government - a legal requirement - and the cost of it does not form part of the current consultation. It could be regarded as a separate subsidy, and it's also paid by the council to bus companies for journeys on their commercial (otherwise unsubsidised) services. Whichever option(s) are chosen and however bus operation goes forward in Wiltshire, this scheme will continue to apply and be separately funded.

At present, passengers with concessionary cards sometimes join buses just before 09:30, and buy a ticket only as far as the first stop the bus calls at after 09:30, where they get off and get back on again. Under the Option 24/7 schemes, they would be allowed to purchase their ticket to the intermediate stop and declare their card when they initially joined the bus, removing the requirement for them to get off and on again to save them money.

It has been pointed out that the concessionary bus pass is only useful if there's actually a bus you can use, and that a significant reduction in buses would result in a significant reduction in journeys, which in turn would result in a significant reduction in council funding requirement. Put another way - withdraw all the buses, pensioners can't then travel, so the council doesn't have to pay for them.

• What about fares and ticket prices?

At present, there's a bewildering array of fare options.

Example: Melksham to Bath is 4.50 on one operator, 4.30 on the other, 6.50 return with either operator. But you have to come back on the same company during the day and early evening. On the 20:00 and 23:20, both company's return tickets are valid. You can buy a "Wiltshire Day Rover" at 8.50 if you know you're going out with one company and back with the other, you can pay 8.60, 8.80 or 9.00 using two singles if you can't plan your return, or you'll end up paying up to 11.00 if you travel out with Faresaver and buy a return, but miss their 17:30 return and want to come back on the 18:30 First bus rather than waiting for the 20:00 First bus on which the Faresaver return IS valid.

Under the scheme proposed with Option 24/7, fares are set for all services on a flow via any reasonable route and operator. Buy your same-price return on any bus (First, FareSaver or AD Rains) and you can then return with any of the three operators later the same day.

• What do the bus operators think?

Frankly, they're a bit concerned - much of that though is because it's early days and details haven't been worked out. The proposed system, whether it's a quality bus partnership or quality bus contract type umbrella, remains commercially competitive - it's just that the competition is moved away from a daily fight for passengers to contracts / agreements reached to cover a number of years, during which operation is for the common good and growth of the particular flows. As things stand at the moment, some commercial routes are highly profitable "cash cows" and the business running them are (by definition) looking to maximise their profit which at times is a different metric to maximising passenger numbers, route growth, or connectional support.

Taking an example, until 6 months ago 2 companies completed on a route in Wiltshire between major towns. Then one company withdrew its service, taking 4 vehicles off the road. The cost of running those 4 vehicles would have been about a million pounds a year, and knowing they had been making a loss, we can estimate that the income had been around 750,000 pounds. The company remaining has increased capacity to take over the passengers from the company that pulled out - by replacing two of their 4 vehicles on the route with bigger vehicles - annual cost of under 250,000 pounds. So they are making an extra half million pounds a year on that one route. And at the same time, they are providing a subsidised service connecting on from that bus on a secondary road. In other words, the "cash cow" money is ringfenced and the connecting services that (arguably) that money should support are funded by the isolated route itself and the taxpayer.

There is a need to bridge this divisive gulf between commercial and subsidised services, and to work with the operators to ensure they can remain innovative, motivated and profitable, providing an excellent service which encourages more not less use, and more seats to be filled on all services to minimise subsidy and maximise commercial viability and encouragement. This has been overcome in London, all be it with one major operator choosing not to tender for bus services there these days - and that's their commercial choice.

A further thought. A number of bus operators in Wiltshire rely heavily on council contracts for subsidised services, and if the support for those services is to be cut without alternative income generations (options 1 through 6), the future looks bleak indeed for them.

• Which bus services are subsidised and which ones are commercial?

There's a list (from Wiltshire council, as at August 2015) of subsidised and partially subsidised services, and how much each costs, here. There's a map showing daytime buses - subsidised and commercial - here. There's a map showing evening buses - here. There's a map of infrequent services here. And there's a map of the Sunday bus network here.

Note that these maps are from last summer, since when there have been significant changes.

• Are you working with Wiltshire Council

More than you might have guessed from the consultation ;-). Their officers are limited in what they can do and say due to constraints of the public service and the requirement on them to protect taxpayer's money and be conservative (small C) - and at times they regret not being able to give serious consideration to the 'radical option'. Additionally, this consultation has been in preparation for the best part of a year, so it's not been possible for them to include options which have become much more viable within the last month (as I write) due to changes in government thinking.

Our Option 24/7 'team' knows and respects many of the officers at Wiltshire Council and we work well with them and look forward to doing so into the future as well; their expertise will be key (and much welcomed) in a move forward to implementing option 24/7.

• Where would the money to pay for the services come from?

Fares, BSOG or its successors, efficiency savings, additional fare revenue, seed funding from CIL and section 106, designated rail supplement transfer, ENCTS payments, reduced (perhaps reducing to zero) council subsidy of the form this consultation is about. Technical papers have been submitted / can be updated looking at these elements and forming a budget.

• Will the services run with knackered old buses?

We hope not! Budget work has been based on modern leased vehicles to come into use as existing vehicles reach the end of their service lives - no sudden change, but a movement to a fleet with an average age of 2.5 years fitted with up to date facilities. That's low floor, WiFi, comfortable seating, good suspension, vehicle tracking at present, but who knows what the next generation of buses will have on them?

• The consultation talks about saving by avoiding the need to travel in the first place. Good idea?

Online ordering of anything from heavy groceries to specialist items, with home delivery, has undoubtedly cut the need for some people to travel - and it's a godsend for those of us who are no longer as physically fit as we once were. No doubt this sector will continue to be strong / grow, and that's welcome.

Home delivery, though, does not bring you to the doctors or the hairdressers. In some roles, you cannot work from home even with the internet (and there will always be a need to go to the office sometimes), and there are very important social aspects (and health / exercise) issues in getting out too - not being isolated in your village.

The reduction in the need to travel because of alternatives such as delivery and internet is a real challenge to the public transport network - but it seems unlikely to take over to the extent that some public transport services are no longer required ... but it does leave empty seats where previous Mrs Smith would be popping in to the store, but now she takes the delivery at home.

• What about service specification and marketing?

Wiltshire Council, the train operators, and the community have worked well together in specifying and marketing the new TransWilts service - and with spectacular results. Some of the same team would be involved in Option 24/7, and indeed you'll find that the TransWilts leaflet for this winter already includes both train and bus information.

We envisage strong community input into the new services, along the lines of a Community Bus Partnership, and with a Community Bus Officer role just like we have a Community Rail Officer (though he is part time for far fewer services)

• Why not treat each route in isolation like happens on current subsidy contracts?

Because service interlink - both operationally and with passenger connections. Joined up thinking will make for better use of resources, less need for subsidy, and more useful services which will encourage additional passengers. Whilst some transport services are almost exclusively isolated - taking people from home to where they want to go - many others involve connection which (at the other extreme) can account for 80% of journeys on a service.

• Bus stop information

What a nightmare at the moment. Many bus stops lack timetables or they're out of date, and there's no way of knowing if "valid from 12th September 2012" is still valid today. Maps to neighbouring stops are limited, and indicator displays are patchy in location and accuracy.

Please don't expect option 24/7 to give a full or immediate improvement. However, some things can change quite quickly. With syncronised timetable changes, there's an immediate solution to the question "is it in date" because timetables will have start and end dates. With bus trackers being a requirement on operators, mobile phone apps (at least) will provide much more real time bus information, and much less that's just schedules that don't tell you if the bus in on time.

Additional information at stops / timetable sheets where not currently provided is very practical. Additional electronic departure displays less so, as they tend to be expensive to provide but a handful at key locations - town centres and stations where they are currently lacking - may be possible. And some railway station departure boards could easily provide key bus departures as the already do at (for example) Bristol Temple Meads on the main train board, or at Weymouth on a separate board.

• Why do we need buses at all?

If all buses were to be withdrawn in Wiltshire, what would happen?

There's a shortage of bus drivers and those who lived in the North and West Wilts areas would soon find employment in Bath ... and I suspect others from the north each of the county in Swindon, and from the south in the Southampton area.

Bus users without their own transport would reduce their travel, or take to taxis, to the link scheme (but there are doubts that could cope as it struggles at times at the moment), or would call up home services where currently they can go to (for example) the doctor. For more serious hospital appointments, the ambulance service would experience an increase in requests for transport. Some of these additional costs would come out of the pockets of people who are already on a very tight personal budget, and others from the welfare / health care system, where it would be a far greater expense on the taxpayer.

Many bus users are also young - travelling to school less than three miles, to different schools than the nearest, to their first jobs, to a night out with their friends. Other younger ones can't afford car insurance, have medical issues, or don't feel safe driving at the tail end of a long day. Some, for sure, can use "Dad's Taxi" ... clogging up the school gates ...

For some people, lack of a daily affordable bus service would mean the lack of ability to reach their job. For others, that lack of getting around would remove that exercise they get of walking to and from the bus stop. May sound silly, but research has shown that even a bit of exercise in using public transport, and its availability, keeps people healthier, happier and active.

For those of us who can drive, but also use buses, we might get pushed back up from a 1 to 2 car family. We might cause more congestion on the roads and more pollution with the gases from driving, and in some towns / cities we would cause parking problems. Conversely, Park and Rides (Wiltshire has some in Salisbury) without buses ... would become useless spaces at the taxpayer's expense and Salisbury would become more of a nightmare than it is at the moment.

• How about community transport

There are a number of excellent community transport systems already running in Wiltshire and they are a valuable provision. Most of them do excellent work for their communities and we hope they'll continue to do so, and indeed connect into and integrate with Option 24/7 services. Some may indeed grow, taking over (especially) some of the weekly "market" runs.

However, many Community Transport schemes already report that they're stretched for volunteer drivers, and that they would be hard pressed to take on much if any more - and some bus operators report regularly being called upon to assist in the provision of scheduled community transport services if their vehicle is off the road or no driver is available.

To drive a public service vehicle, a person needs to be safe and healthy whether or not he/she is a volunteer or being paid. The "pool" for community volunteers has typically been the newly-retired, but that pool has been pretty well fished already. With retirement age on the rise, with a cutoff at 75 years old for PSV drivers, and with ever more stringent medical requirements, these volunteers are going to get fewer. It would be possible (indeed it happens) for community service drivers to be paid and to drive as a second job alongside potentially part-time other employment - but in practise for a daily service, there's little or no cost benefit in doing that over busing in the services of a bus operator, who has the benefit of scale both on being able to move drivers around, and on having standard centralised vehicle repair, maintenance and servicing rather than having lots of small individual groups each having to set up all the mechanisms for a single vehicle service, and deal with the significant issues when that vehicle is off the road or needs replacing.

• What about school buses

Wiltshire Council are obliged to provide travel to school for school children who live more than a certain distance from their school. The obligation to provide is removed if the parents / guardian choose to send their children to a more distant school than the closest one offered.

This obligation will continue.

School buses actually provide a great opportunity - be it within option 24/7 or in other schemes - to provide a resource which moves around to different requirements during the day - and I can find you examples of that already ... a "classic ..." for a Melksham Town minibus as it was this time last year.
- 2 runs from Bowerhill, Skylark Road and Melksham Forest to the town and station for commuters
- Broughton Gifford and other villages to Melksham Oak for school traffic
- Melksham Town routes 14 and 15 until mid afternoon - primarily for senior traffic
- Melksham Oak back out to villages for returning school traffic
- A further run on 14 / 15 to take late afternoon traffic home
- Journey to and from Trowbridge for end-of-day commuter traffic / shop workers from Melksham and Trowbridge
- 3 runs from Melksham station to (as required) Melksham Forest, Skylark Road and Bowerhill.

Under Option 24/7, this is a good example / excellent model. It might be modified at the end of the day to pick up in Melksham Town Centre as well as at the Station for end of day connections off other buses and people working later. And having completed those runs, an extra run to Chippenham, Melksham (via station and same rail link areas) to Trowbridge, back to Chippenham and a final run Chippenham to Melksham would provide for the evening services using an appropriate vehicle.

Taking driver's hours into account, this example would require two drivers - the old example was 1.5 drivers and that made it rather more expensive to operate per service, so the proposal is an example of the rather good 24/7 consideration that could be provided starting from where we are today.

• Car parking ...

It's said that car parking charges are at their present level in Wiltshire towns to help provide financial support for transport services such as buses and filling potholes, and I've been asked if option 24/7 would result in a reduction in parking charges.

Sorry - I doubt it. You will notice that Wiltshire Council's "option 6" to remove all non-mandatory bus subsidy does not suggest that one of the side effects would be a reduction in parking charges ... I suppose that if we ended up with a profitable network via Option 24/7, consideration would / could be given on how to spend that profit - but it would be more likely to be spent on reducing fares, or enhancing / providing more marginal services under option 24/7 - inward investment.

• What about bus and train ticket interchangeability

We had some (limited) interchangeability in the evenings between Chippenham, Melksham and Trowbridge until August 2015 - at which point the buses that accepted train tickets were withdrawn. There is also currently a "plusbus" arrangement where passengers arriving into Chippenham or Trowbridge can purchase a PlusBus ticket at their station of origin and connect onto certain buses within the urban areas of Chippenham and Trowbridge. Under the current PlusBus scheme, you cannot travel beyond quite a small urban area, nor can you get onto a bus in the town and buy a plusbus ticket to the station and onwards to your final destination - you need to make a trip to the station first to buy the ticket (!) or order it online for delivery by post. E-tickets are changing these limits somewhat.

Under option 24/7, train tickets would be accepted on buses by any reasonable route, and PlusBus or the equivalent extended to get passengers to towns not rail-served such as Amesbury, Calne, Marlborough, Devizes, and Malmesbury.

Note that a train ticket from (say) London to Melksham would allow use of the bus from Chippenham to Melksham, allowing passengers travelling from London to the National Trust village at Lacock to take the Melksham bus at Chippenham station and alight at Lacock.

Allowing tickets bought on the bus for train use may be technically much more complex due to the requirements of the receiving rail industry, but local facilities might be negotiable.

• What do you mean by "fanning" services?

Instead of running all buses from town "A" to town "H" along the route through "B", "C" and "D", run alternate buses through "B", "C", "D" and through "E", "F" and "G".

If the original services were two buses an hour, that reduces the services to "B", "C" and "D" to hourly - likely to be acceptable since the two buses were probably competing with each other and now evenly spaced anyway. But it also provides a service for "E", "F" and "G" which is far better than what they previously had on offer, and allows the subsidised bus that previously served them to redeployed or withdrawn.

Journey times from "A" to "H" may be a few minutes longer on the new route - which is why neither of the original services went that way as they were competing on speed. But with a regularsisation to services leaving both "A" and "H" about every 30 minutes, passenger will accept a few extra minutes on the bus (and common fares and tickets please!) rather than a longer wait during the service gaps in departures from "A" and "H".

• Extra buses for special events

At present, commercial operators can run extra services at times if they wish - Salisbury Reds ran some extra "Solstice" buses in December, for example. How would that work?

Not the major thrust of option 24/7 ... yet it's all about meeting passenger needs. We would anticipate a system in which all parties worked very closely together, and extra services could be programmed into the system. Quite who's final decision it would be would come with the scheme's details.

• What knowledge and track record do team behind Option 24/7 have?

We're share some of the community team behind the TransWilts rail service ... on which passenger numbers have grown from 18,000 to 183,000 in 2 years and continue to grow. TransWilts has former members of the Transport User's Consultative Committee, former chair of the Rail Industry Association, former chair of the Swindon and Wiltshire LEP on our team. A member operates a passenger transport forum with 1800 members and is a member of the board of TravelWatch SouthWest. The TransWilts team already has a number of minor positive bus adjustments - by FareSaver, First Bus and Frome Minibuses / Wiltshire Council under their belt. With a proven record of hard work - pounding the streets - to market services and make people aware of the options available to them, TransWilts has friends and contacts who could help us with that marketing once Option 24/7 became an adopted option. By working with TransWilts Community Interest Company (website at transwilts.org) we're in a strong position to bring this proposal right through from an idea to an award-winning reallity just like we have done with the trains.

But we freely admit that we do not have local knowledge of all of the towns, villages and local considerations across Wiltshire - and that's where we know we need that help from within individual communities (if you're willing to provide that help, please get in touch via our contact page).

• How can I get in touch with you?

Please use the contact form on this website - [here]. If you need to speak with us urgently, during the first weeks of this consultation, you can also email option247@wellho.net or contact us via our Facebook page.


---